A PHP Error was encountered
Severity: Warning
Message: Declaration of MX_Loader::library($library, $params = NULL, $object_name = NULL) should be compatible with CI_Loader::library($library = '', $params = NULL, $object_name = NULL)
Filename: MX/Loader.php
Line Number: 403
A PHP Error was encountered
Severity: Warning
Message: Declaration of MX_Loader::helper($helper) should be compatible with CI_Loader::helper($helpers = Array)
Filename: MX/Loader.php
Line Number: 0
A PHP Error was encountered
Severity: Warning
Message: Declaration of MX_Loader::helpers($helpers) should be compatible with CI_Loader::helpers($helpers = Array)
Filename: MX/Loader.php
Line Number: 0
A PHP Error was encountered
Severity: Warning
Message: Declaration of MX_Loader::language($langfile, $lang = '', $return = false) should be compatible with CI_Loader::language($file = Array, $lang = '')
Filename: MX/Loader.php
Line Number: 0
A PHP Error was encountered
Severity: Warning
Message: Declaration of MX_Loader::_ci_get_component($component) should be compatible with & CI_Loader::_ci_get_component($component)
Filename: MX/Loader.php
Line Number: 0
A PHP Error was encountered
Severity: Warning
Message: Declaration of MX_Lang::load($langfile, $lang = '', $return = false, $_module = NULL) should be compatible with CI_Lang::load($langfile = '', $idiom = '', $return = false, $add_suffix = true, $alt_path = '')
Filename: MX/Lang.php
Line Number: 94
A PHP Error was encountered
Severity: Notice
Message: Only variables should be assigned by reference
Filename: core/Loader.php
Line Number: 657
A PHP Error was encountered
Severity: 8192
Message: Methods with the same name as their class will not be constructors in a future version of PHP; Markdown_Parser has a deprecated constructor
Filename: helpers/markdown_helper.php
Line Number: 193
A PHP Error was encountered
Severity: Notice
Message: Array to string conversion
Filename: libraries/Fuel_navigation.php
Line Number: 213
A PHP Error was encountered
Severity: Notice
Message: Array to string conversion
Filename: libraries/Fuel_navigation.php
Line Number: 248
A PHP Error was encountered
Severity: Notice
Message: Array to string conversion
Filename: libraries/Fuel_navigation.php
Line Number: 248
A PHP Error was encountered
Severity: Warning
Message: Declaration of Fuel_careers::initialize($params) should be compatible with Fuel_advanced_module::initialize($params = Array)
Filename: libraries/Fuel_careers.php
Line Number: 474
A PHP Error was encountered
Severity: Warning
Message: Declaration of Fuel_mediaadmin::initialize($params) should be compatible with Fuel_advanced_module::initialize($params = Array)
Filename: libraries/Fuel_mediaadmin.php
Line Number: 474
A PHP Error was encountered
Severity: Warning
Message: Declaration of Fuel_newsandevents::initialize($params) should be compatible with Fuel_advanced_module::initialize($params = Array)
Filename: libraries/Fuel_newsandevents.php
Line Number: 474
A PHP Error was encountered
Severity: Warning
Message: Declaration of Fuel_detectionsystemadmin::initialize($params) should be compatible with Fuel_advanced_module::initialize($params = Array)
Filename: libraries/Fuel_detectionsystemadmin.php
Line Number: 474
A PHP Error was encountered
Severity: Notice
Message: Array to string conversion
Filename: libraries/Fuel_navigation.php
Line Number: 213
A PHP Error was encountered
Severity: Notice
Message: Array to string conversion
Filename: libraries/Fuel_navigation.php
Line Number: 248
A PHP Error was encountered
Severity: Notice
Message: Array to string conversion
Filename: libraries/Fuel_navigation.php
Line Number: 248
Fire Protection for Buildings
HI-FOG® is an advanced fire protection system suitable for different kinds of buildings.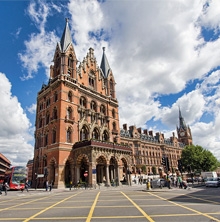 Extensive research and development, along with rigorous fire testing, make HI-FOG® an extremely effective and reliable fire protection solution.

Fire safety is of paramount importance to our customers, and HI-FOG® offers an effective and durable solution while using significantly less water than traditional water based sprinkler systems. Various technical HI-FOG® solutions can be installed in even the most challenging parts of the buildings in accordance with the relevant building fire codes and standards in Ordinary Hazard classifications.

Meeting Customers' Fire Protection Requirements
Rigorous fire testing, high quality products and professional design are supported by a number of type approvals, and these factors combine to best meet customer requirements in terms of fire protection for commercial buildings.

HI-FOG® helps ensure that buildings and their occupants are kept safe from fire while maintaining business continuity. An architecturally friendly solution, HI-FOG® is ideal for both new and older buildings, as it complements the visual beauty and structural constraints of: