Fire protection at sea is especially demanding, with many requirements in place to ensure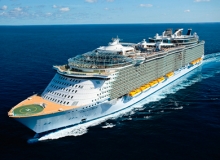 maritime operations remain safe from fire. With its history rooted in marine fire protection, HI-FOG® is well proven to meet those requirements.

Today HI-FOG® protects most of the passenger cruise ships in the world. Through extensive research and development, as well as rigorous testing, Marioff is able to offer a wide range of applications, from luxury yachts, cruise ships and passenger ferries to ordinary ships, supply vessels, naval and offshore applications.
HI-FOG® Benefits for Shipyards:
Single supplier for all applications
Single supplier for project execution and training
Design and coordination cost savings
Fire protection during construction
Reliable and experienced supplier partner
HI-FOG® Benefits for Ship Owners:
Small fire damage due to fast activation and the small amount of water used
Crew training for one fire protection system
One system to maintain
One mimic panel for all applications
Long lasting quality components
Single point for after-sales support
Sustainable solution
Protection for Every Onboard Space

Using a modular design and compact components, HI-FOG® has the flexibility needed for all types of spaces. Please read more about HI-FOG® and its solutions for ships and the offshore industry from the links below.
Fire Protection for Ships
Fire Protection for Offshore
HI-FOG Protects All Spaces Onboard