A PHP Error was encountered
Severity: Warning
Message: Declaration of MX_Loader::library($library, $params = NULL, $object_name = NULL) should be compatible with CI_Loader::library($library = '', $params = NULL, $object_name = NULL)
Filename: MX/Loader.php
Line Number: 403
A PHP Error was encountered
Severity: Warning
Message: Declaration of MX_Loader::helper($helper) should be compatible with CI_Loader::helper($helpers = Array)
Filename: MX/Loader.php
Line Number: 0
A PHP Error was encountered
Severity: Warning
Message: Declaration of MX_Loader::helpers($helpers) should be compatible with CI_Loader::helpers($helpers = Array)
Filename: MX/Loader.php
Line Number: 0
A PHP Error was encountered
Severity: Warning
Message: Declaration of MX_Loader::language($langfile, $lang = '', $return = false) should be compatible with CI_Loader::language($file = Array, $lang = '')
Filename: MX/Loader.php
Line Number: 0
A PHP Error was encountered
Severity: Warning
Message: Declaration of MX_Loader::_ci_get_component($component) should be compatible with & CI_Loader::_ci_get_component($component)
Filename: MX/Loader.php
Line Number: 0
A PHP Error was encountered
Severity: Warning
Message: Declaration of MX_Lang::load($langfile, $lang = '', $return = false, $_module = NULL) should be compatible with CI_Lang::load($langfile = '', $idiom = '', $return = false, $add_suffix = true, $alt_path = '')
Filename: MX/Lang.php
Line Number: 94
A PHP Error was encountered
Severity: Notice
Message: Only variables should be assigned by reference
Filename: core/Loader.php
Line Number: 657
A PHP Error was encountered
Severity: 8192
Message: Methods with the same name as their class will not be constructors in a future version of PHP; Markdown_Parser has a deprecated constructor
Filename: helpers/markdown_helper.php
Line Number: 193
A PHP Error was encountered
Severity: Notice
Message: Array to string conversion
Filename: libraries/Fuel_navigation.php
Line Number: 213
A PHP Error was encountered
Severity: Notice
Message: Array to string conversion
Filename: libraries/Fuel_navigation.php
Line Number: 248
A PHP Error was encountered
Severity: Notice
Message: Array to string conversion
Filename: libraries/Fuel_navigation.php
Line Number: 248
A PHP Error was encountered
Severity: Warning
Message: Declaration of Fuel_careers::initialize($params) should be compatible with Fuel_advanced_module::initialize($params = Array)
Filename: libraries/Fuel_careers.php
Line Number: 474
A PHP Error was encountered
Severity: Warning
Message: Declaration of Fuel_mediaadmin::initialize($params) should be compatible with Fuel_advanced_module::initialize($params = Array)
Filename: libraries/Fuel_mediaadmin.php
Line Number: 474
A PHP Error was encountered
Severity: Warning
Message: Declaration of Fuel_newsandevents::initialize($params) should be compatible with Fuel_advanced_module::initialize($params = Array)
Filename: libraries/Fuel_newsandevents.php
Line Number: 474
A PHP Error was encountered
Severity: Warning
Message: Declaration of Fuel_detectionsystemadmin::initialize($params) should be compatible with Fuel_advanced_module::initialize($params = Array)
Filename: libraries/Fuel_detectionsystemadmin.php
Line Number: 474
A PHP Error was encountered
Severity: Notice
Message: Array to string conversion
Filename: libraries/Fuel_navigation.php
Line Number: 213
A PHP Error was encountered
Severity: Notice
Message: Array to string conversion
Filename: libraries/Fuel_navigation.php
Line Number: 248
A PHP Error was encountered
Severity: Notice
Message: Array to string conversion
Filename: libraries/Fuel_navigation.php
Line Number: 248
Service Contracts and Packages
Just as any appliance needs care, so too does HI-FOG® Without regular check-ups and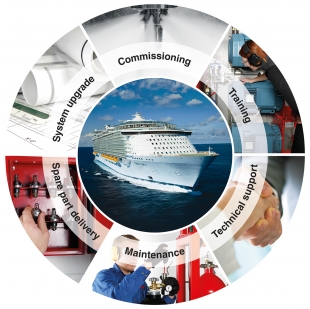 preventive maintenance, the reliability and performance of your HI-FOG® system may diminish. By being proactive with Marioff Services, you can extend the lifetime of your HI-FOG® system and help ensure you get the best fire protection performance possible.

Marioff offers a range of professional services to help maintain your HI-FOG® system and operate it in the best way possible, so you can be sure of high quality, trustworthy, and fully optimized servicing.

HI-FOG® systems are vital safety systems, and should only be serviced by service engineers who are certified to train, operate and maintain HI-FOG® systems.
Annual Service Contract
An annual service contract is the best way to keep your HI-FOG® system in perfect working condition. Marioff trains your system operators to perform small, regular tasks, such as visual inspections and simple tests, while Marioff's certified service engineers perform annual service calls.

The annual service package provides thorough preventive maintenance, which is performed only by experienced HI-FOG® service engineers. The general condition and performance level of the system is checked and the operation of all the essential parts and functionalities is verified. The system is also inspected according to any new rules or regulations, with any upgrade suggestions stated in the service report.

Service contracts bring additional benefits such as:
Lower long-term maintenance costs
Discounts on spare parts
Predictable budget for maintenance
Service reports and recommendations


5 and 10 Year Service
At five and ten year intervals, more extensive maintenance should be performed on any HI-FOG® system. The 5 and 10 year service packages include all tasks, from a regular annual service to more detailed inspections. Seals, hoses and other components that are susceptble to the heaviest wear are inspected and serviced as needed. In the 10 year service package, pressure cylinders are also serviced according to regulations.

Contact Deutschland Technology for Service
Spare parts, maintenance & general enquiries: sorour@hi-fog-egypt.com