A PHP Error was encountered
Severity: Warning
Message: Declaration of MX_Loader::library($library, $params = NULL, $object_name = NULL) should be compatible with CI_Loader::library($library = '', $params = NULL, $object_name = NULL)
Filename: MX/Loader.php
Line Number: 403
A PHP Error was encountered
Severity: Warning
Message: Declaration of MX_Loader::helper($helper) should be compatible with CI_Loader::helper($helpers = Array)
Filename: MX/Loader.php
Line Number: 0
A PHP Error was encountered
Severity: Warning
Message: Declaration of MX_Loader::helpers($helpers) should be compatible with CI_Loader::helpers($helpers = Array)
Filename: MX/Loader.php
Line Number: 0
A PHP Error was encountered
Severity: Warning
Message: Declaration of MX_Loader::language($langfile, $lang = '', $return = false) should be compatible with CI_Loader::language($file = Array, $lang = '')
Filename: MX/Loader.php
Line Number: 0
A PHP Error was encountered
Severity: Warning
Message: Declaration of MX_Loader::_ci_get_component($component) should be compatible with & CI_Loader::_ci_get_component($component)
Filename: MX/Loader.php
Line Number: 0
A PHP Error was encountered
Severity: Warning
Message: Declaration of MX_Lang::load($langfile, $lang = '', $return = false, $_module = NULL) should be compatible with CI_Lang::load($langfile = '', $idiom = '', $return = false, $add_suffix = true, $alt_path = '')
Filename: MX/Lang.php
Line Number: 94
A PHP Error was encountered
Severity: Notice
Message: Only variables should be assigned by reference
Filename: core/Loader.php
Line Number: 657
A PHP Error was encountered
Severity: 8192
Message: Methods with the same name as their class will not be constructors in a future version of PHP; Markdown_Parser has a deprecated constructor
Filename: helpers/markdown_helper.php
Line Number: 193
A PHP Error was encountered
Severity: Notice
Message: Array to string conversion
Filename: libraries/Fuel_navigation.php
Line Number: 213
A PHP Error was encountered
Severity: Notice
Message: Array to string conversion
Filename: libraries/Fuel_navigation.php
Line Number: 248
A PHP Error was encountered
Severity: Notice
Message: Array to string conversion
Filename: libraries/Fuel_navigation.php
Line Number: 248
A PHP Error was encountered
Severity: Warning
Message: Declaration of Fuel_careers::initialize($params) should be compatible with Fuel_advanced_module::initialize($params = Array)
Filename: libraries/Fuel_careers.php
Line Number: 474
A PHP Error was encountered
Severity: Warning
Message: Declaration of Fuel_mediaadmin::initialize($params) should be compatible with Fuel_advanced_module::initialize($params = Array)
Filename: libraries/Fuel_mediaadmin.php
Line Number: 474
A PHP Error was encountered
Severity: Warning
Message: Declaration of Fuel_newsandevents::initialize($params) should be compatible with Fuel_advanced_module::initialize($params = Array)
Filename: libraries/Fuel_newsandevents.php
Line Number: 474
A PHP Error was encountered
Severity: Warning
Message: Declaration of Fuel_detectionsystemadmin::initialize($params) should be compatible with Fuel_advanced_module::initialize($params = Array)
Filename: libraries/Fuel_detectionsystemadmin.php
Line Number: 474
A PHP Error was encountered
Severity: Notice
Message: Array to string conversion
Filename: libraries/Fuel_navigation.php
Line Number: 213
A PHP Error was encountered
Severity: Notice
Message: Array to string conversion
Filename: libraries/Fuel_navigation.php
Line Number: 248
A PHP Error was encountered
Severity: Notice
Message: Array to string conversion
Filename: libraries/Fuel_navigation.php
Line Number: 248
Spare Parts
If a HI-FOG® system component needs to be replaced, only original HI-FOG® spare parts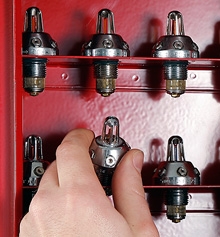 should be used. The availability of high quality spare parts is an essential part of Marioff's service commitment.

With comprehensive information on every HI-FOG® system, you can rely on Marioff for quick identification and the speedy delivery of spare parts. As the original manufacturer of HI-FOG® components, Marioff has an extensive spare parts stock and can effectively replace obsolete components. If you require a part that is not in stock, it can be manufactured in our workshop and delivered in a quick and efficient manner.

Customized spare part packages are defined separately for each installation project, as this helps to ensure that the correct parts are delivered quickly if needed.
Contact Marioff for Spare Parts
Spare parts, maintenance & general enquiries: sorour@hi-fog-egypt.com
Emails are processed during local office hours at 08:30-16:30 (GMT+2) from Sunday to Thursday.